The Old & the New
& Staying Flexible
It seems advances in technology and its applications in day-to-day life are being reworked and upgraded with increasing speed and without warning. This becomes acutely evident when I traveled outside of New England – a fairly rare occurrence.
Learning to use a computer, a cell phone – piece of cake. Now it seems you need an app for nearly everything; getting boarding passes for the airline, getting a ride from point A to point B, or paying for a parking spot.
Tasks I assume simple and straightforward now require a smart phone and either cell a signal or high-speed internet service. A radio in a rental car shouldn't be too hard to navigate, but the "old world" operator inputs are so different, it is hard to know where to even start.
Some of this could be explained by the transition to the internet-based economy that started close to twenty years ago and has really taken off in the last ten years.
Most people (especially those under fifty) are able to meet a majority of their social and material needs through Amazon, Spotify, Facebook and Twitter – nearly instant gratification with just a few clicks. I was recently at a small local store that lost its internet access and pretty much put a stop to all transactions.
Navigating between the old pre-internet world and the current internet world is challenging. A handful a years ago, there was a big fight between John Deere and John Deere farmers that wanted to repair their own tractors, but needed proprietary software to even get started.
Just recently, Apple started offering a suitcase of tools for repairing your own iPhone. A great idea in theory, but I wouldn't recommend it.
You could rent the tools, but if you don't return them, they charge your credit card $1500. But the real kicker is even with the specialized tools, most of the repairs are hours long and remain very challenging.
Recently, Canadian N-News subscriber Bob Paterson (see his letter on page 12 and his photos on the back cover) wrote in with a comment. Our ongoing email conversation about tractors, motorcycles, local papers and the dichotomy of "the old" and "the new" spurred Bob to write about a farm supply store that had a parking lot with Tesla charging stations on one side and sheds for horse and buggies on the other. (There is a significant Mennonite community in the area.)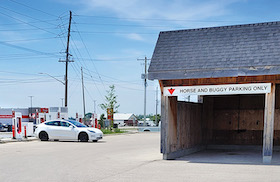 That made me think about the intense flexibility we all need these days to continue to balance the apps and the horse and buggies.