Seize the Day
Regular readers of the N-News know I always have a pile of books I'm working my way through. Some are oriented towards tractors, motors and biographies of people involved in these areas.
But I also read with the goal of finding some deeper meaning, both philosophical and aesthetic. Sometimes it's possible to glimpse those goals through the books I review in the magazine, such as the two black and white photo books of barns in this issue, which offer a sense of place and history.
This past quarter, I have been spending time reading Being Mortal: Medicine and What Matters in the End, by author and surgeon Atul Gawande. If you haven't heard of him, I encourage you to seek out some of his writing or look for his TED talk online.
Gawande has contributed many articles for The New Yorker and Slate magazines and he has written several highly acclaimed books on the problems and challenges of modern medicine. His ideas about providing compassionate and sensible care resonate in an age of high tech, impersonal and dollar-driven healthcare.
Being Mortal is a beautifully written (and at times, entertaining) look at how we "do" the end of life in the United States. He explores the decisions we make (along with our doctors and families) and how they can undermine or enhance the quality of our lives when life is most precious. Gawande describes his own journey with aging parents who are faced with functional and medical challenges in the last years of life.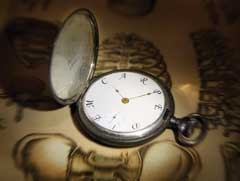 Although the subject matter is sobering, the take away is positive. You do have some control over how you live the end of your life and this time can be especially meaningful. It requires thinking about what is important and planning for care and treatment that is in line with those values.
Through books like Being Mortal, I find something else happens, too – my perspective changes. I get a slightly different view of what my world and what my life looks like. I find new reasons to indulge my fascinations – tinkering with old Ford tractors or vintage motorcycles, growing garlic, gardening, doing personal artwork and maintaining (and growing) friendships.
For me, it is within those subjects I can find a straightforward simplicity, a kind of calm happiness in achieving something to a deeper level than I previously thought possible. A greater understanding of an engine, a better crop or a deeper sense of our relationships is what we have.
Carpe diem.