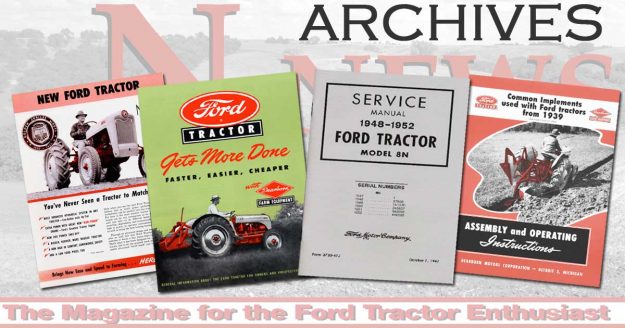 Here in the N-News Archives you will find reprints of over 600 instruction books, implement manuals, and ephemera (like vintage advertising) available for order. In our over one published hundred issues, we've discussed Ford's history, tricky maintenance tasks, and tech & tool tips that keep your N running. And many of those articles tapped our archives.
Find a full rundown of the topics that we've covered in our Index and a complete list of reprints of vintage implement manuals in our Master Archives List (or have a look at the category index below). For more than a quarter-century, the N-News has been an information clearinghouse for vintage Ford tractors second only to the Henry Ford Museum itself in Dearborn, Michigan. The N-News archives offers something for everybody! And obtaining a reprint from our archive is as easy as calculating the cost and sending in your payment
Calculate the cost. Archives materials are priced according to the value indicated in parenthesis. Unless a dollar amount is specified, simply multiply the value on the archive list x $ .49 (or remit that number of first-class USPS stamps for domestic orders).
Send payment in stamps or USPS Postal Money Order. Please refer to the order forms for US orders.
Please note the use of abbreviations: A/O Instr: Assembly & Operating Instructions; Advrt: Advertising Literature (with specs); Instr: Installation Instructions; LT: Lift Type Implement; PB: Parts Book or Manual, includes drawings; PL: Parts List (no drawings); OM: Owner's Manual; SM: Shop Manual.