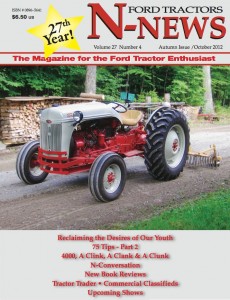 Subscribers have made the print version of the N-News Magazine a success for 30 years! Technical articles and remembrances abound in the N-News. You could get a sense by looking at some of the articles here on the N-News website. Plus, you've shared your memories, discoveries, failures and accidents, and you've made the N-News better for it. We love to hear from you! Do drop us a line via our contact page and let us know about your vintage Ford tractor experiences.
If you're not currently a subscriber to the magazine, please consider signing up for the print version of the N-News Magazine. Subscription rates for 2021 are only $23.95/year ($6.95 for individual issues) in the United States. We haven't raised our subscription rate in more than five years!
Outside the United States the subscription rate is $28/year USD in Canada and Mexico. Outside North America an annual subscription is $31 USD. To subscribe or renew, use our handy Paypal checkout below. Don't have a Paypal account, you could sign up for Paypal for free and use your credit card, or, you could save a dollar on your subscription by mailing a check to N-News PO Box 275, East Corinth, VT 05040-0275 USA.
Not ready to subscribe to the print version? We can send you some sample pages from the magazine. Drop us a line here and we will get subscription information out to you by post.