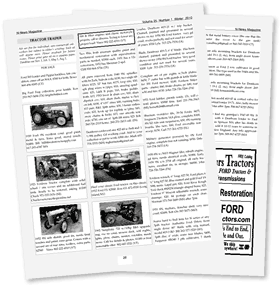 Commercial classifieds are available for anyone in the business of selling tractors, parts, service and the like. Ads are available to anyone – not just subscribers to the N-News magazine. (Larger establishments may want to consider placing a display ad too.) Tractor Trader classifieds are free for individual, non-commercial subscribers but subject to editor's scrutiny. Each ad will appear once, so please resubmit your ad for future issues. Please print your ad on a separate sheet of paper. Deadlines are Nov. 1, Feb. 1, May 1, Aug 1.
Want to add a picture, or scale-up your ad for more prominent placement in the magazine? Just send us an inquiry via our contact webform. Readers, be sure to mention to our advertisers that you found them in the N–News. Some offer discounts to N–News subscribers!
A note about SCAMMERS! Several N-News subscribers have reported being contacted about an ad they had placed the N-News Magazine that ended up being a scam. In every case, the potential buyer offers to send a check (to purchase the item in the N-News ad). The person either "mistakenly" mails the wrong amount of money and asks you (the seller) to just mail the extra money back or use Western Union to send it back. THIS IS A SCAM. If a potential buyer doesn't want to come look at the tractor or wants to send you extra money and have you reimburse the difference, just ignore the email.Tip offs for scam emails can include poor grammar and the message sounds like a form letter with some minor specifics about your equipment inserted.
Beware of not meeting in person
Beware of the buyer sending extra money
DO NOT share your banking information
You don't need a "third party" to complete a transaction
You can make a report at the FBI Internet Fraud Center at 877-382-4357).
Featured Tractor for Sale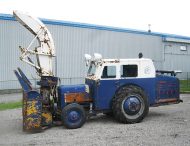 Unusual 1952 Ford 8N, with a front snow blower and a V8 flat head in the rear running the snowblower. It is a Cyclone MFG by COBRA Industries. This tractor is in Québec, Canada. Original parts books included. $10,000 US Funds. Marc 514-968-0512 (Canada) More photos available. verbec@hotmail.com Delivery possible anywhere for additional cost.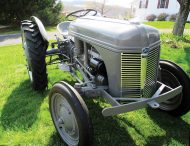 1939 9N Tractor – s/n8511. Completely restored, professional paint job, rewired, (4) new tires, everything complete. Aluminum grill, 32" rear tires, smooth axles, 2 rib fenders just like Henry Ford built it. This tractor is for the serious collector at an entry level price. $9750 obo Joe South-central Pennsylvania. Cell 814-312-5924 or Home 814-839-2650.
Tractor Trader Photo Ads From the Current Issue