My neighbor Richard restores vintage motorcycles. Harleys, Nortons and Triumphs have come through the shop. Even more Vincents and BMWs have graced the doors of Wasted Spark Motorcycle. (www.wastedspark.com)The owners hope to get their bikes back to factory specs and Richard is the man for the job.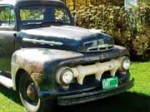 I have watched Richard take apart a 1962 BMW R60/2 transmission down to the last retaining clip – laying it out on the parts bench like an exploded drawing. I have seen him build a cradle in order to flip an engine over on the bench to check tolerances. And I have had the opportunity to watch more than a few 50-70 year old motorcycles come back to life.
The owners of these old bikes not only want to have the engines, transmissions, final drives and suspension systems operating like new – they want to have their rides shiny and sandblasted clean. Richard tries to tell the owners that sometimes their vintage motorcycles are worth much more if the original paint is left intact, even if it is a little dull and the pin stripping a bit spotty.
Certainly this is true of antique furniture. A Chippendale dresser is worth a lot in any condition, but with its original finish (even if it is a little rough), it is even more valuable.
Recently, there was an excellent article in the New York Times Automobile section about high end antique auto shows (like the Pebble Beach Concours d'Élégance in Monterey California). These shows now have "preservation" classes, for antique and vintage cars with their original finish. They look, well, kind of old and used. But that is the whole idea, they are showing their true age and, in many cases, the effort it takes to get them show their age AND be drivable, takes some creative preservation work.
"Why would anyone want to show a car (or tractor or motorcycle) looking old and worn?" you ask.  Well, how often have you glanced at a vintage piece of shop equipment (a lathe, printing press or hand plane, for example) and thought about how much work that object has done over the years. The patina of age somehow brings us closer to that object – not only do we see the object, but we see its history as well. In my mind, the same goes for a car, truck, tractor or motorcycle.
Fifteen years ago, Richard decided he wanted a vintage pickup truck – something to cruise around in when he needed to move more than he could carry on a motorcycle. He found a 1951 Ford F1 in an ad. It was an unrestored farm truck from South Dakota. It had a few dents and dings along with some wonderful welded on flying buttresses – along with its original blue paint (and red putty primer) bleached by the South Dakota sun. In my eyes, there couldn't be a more direct link to life on the ranch 60 years ago.
As much as I enjoy seeing a perfectly restored 8N, 861 or 6000 (or 1962 R60/2 BMW motorcycle) glistening in their new-paint-clear-coat-shininess, there is something special about a well-preserved piece of mechanical history that hasn't been prettied up. Maybe it is a sense of authenticity – pride in the scars of experience.