In June of 2009 I traveled to Iowa to interview Harold Brock, chief designer of the 9N tractor project. It was a little overwhelming to sit down and talk with a man who worked intimately with Henry Ford, Edsel Ford, Henry Ford II, had met Thomas Edison, Harry Ferguson and many other legends of modern invention and industry. The idea of having a tunnel back in time to talk to someone who was there, was an intriguing project to tackle. $26.95.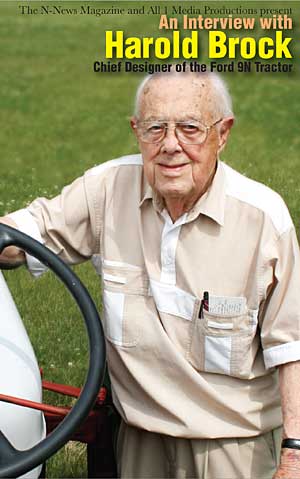 Producing a video interview takes a lot of time and money. Collecting up the gear, traveling and postproduction work were all things I felt the N-News couldn't afford either the money or the time to do. But, author Bob Pripps got me thinking about this as a great opportunity. Thus our Harold Brock DVD was born!
I have known Harold for many years, but this was my first time meeting him face to face. Given his (at the time) 93 years, I was a little concerned about what his energy level would be and how he would do in a room full of lights and video equipment. But Harold didn't even blink. He was well prepared to sit and talk about his days at the Ford Apprentice School and how that led to meeting and working with Henry Ford and being brought into the small engineering department at the time.
We talked about how Ford and Ferguson met and interacted with each other, and perhaps, more importantly, how the Ford design team dealt with Ferguson. We also spent time talking about the history of Ford Motor Company and some of the key players like "Cast Iron" Charlie Sorensen, Eugene Farkas and other engineers.
This video is nearly two hours long, with supporting still photos from the N-News archives and reader send-ins to help punctuate Harold's points. (And, for bonus material, a slide show of additional photos that we collected, but didn't use in the video itself.)
This is your chance to hear about the historic development of the N series tractors from a man who was there at the center of it all.
$26.95 plus shipping and handling.