Before refrigeration and commercial ice production, ice was cut from lakes and ponds and stored for the summer delivery. In this 66-minute video, we go back in time to the days of ice harvesting. Harvesting Ice in New England is narrated by New England historian, Dennis Picard.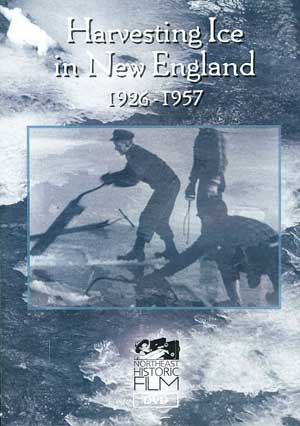 We start with the Spring Brook Ice Service Company in New Britain, CT in 1926. There are some nice shots of downtown, but we quickly move to the ice pond and elevator used to bring the blocks up for storage. Nice footage of a power ice saw. Excellent shots of the "twitchers" who directed the blocks into the ice house. The next film takes place in the 1930s, perhaps in Massachusetts. This ice house has an especially long elevator and seems to be harvesting larger blocks.
The next film is from Newburgh, NY circa 1933, with a similar elevator showing the ice shaver which removed the "snow ice." The next short film, from Rumford, Maine in 1934, starts with a horse drawn scoop plow clearing snow off the ice. There is a great shot of men with manual ice saws working their way through while the power ice saw is doing the scoring. Also a great shot of an ice castle in downtown.
In all there are 14 separate movies showing different operations. An amazing glimpse into an industry that no longer exists. I'm not 100% sure, but I may have spied a Ford tractor in one of the scenes! DVD only. $14.95.