By Dennis Hamblin. Published in the N-News Summer 2017. Vol. 32 No. 3.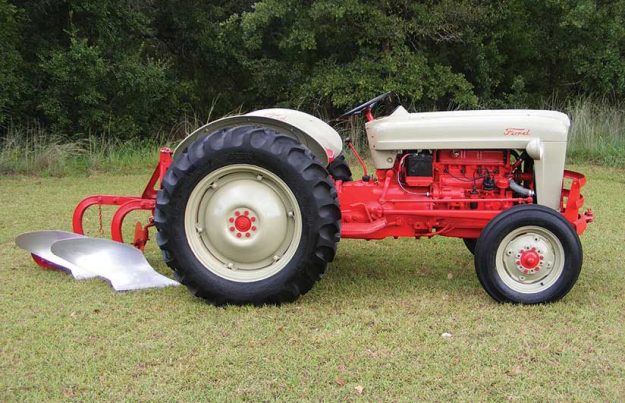 I have enjoyed the N-News for several years. I have noticed that I rarely see an article from Texas. I was raised in Oklahoma, but have lived in Texas since my separation from the service in 1975. I guess you would classify me as a city boy, but, thanks to my Dad, I have worked with tractors my whole life. You can hardly drive a mile in any direction around here without seeing a Ford N-series tractor. I have seen a few old timers that still plow their small acreages with them. The most common use for these old Fords down here seems to be running a brush hog and mowing pastures and small acreages.
My NAA story goes like this: my wife and I moved to a small piece of property outside of Dallas in 1990. My dad said that I needed a tractor to maintain the place, so we started the search. We soon found a mechanically restored NAA Golden Jubilee sitting next to a Ford 601 Workmaster along the roadside. The Jubilee was painted all one color and looked more like an Allis Chalmers. We pooled our money and bought it. It came with a box blade and a bush hog.
We started a project building a wood fence for my horses, digging the holes with a manual posthole digger. Given the Texas cotton field gumbo, this quickly proved futile. We soon became the proud owners of a 3-point hitch post hole digger for the Jubilee. That one implement proved to be a life- saver.
Over the years, that Jubilee and I have mowed a lot of pasture and dug a lot of post holes for neighbors. In May 2012, I decided to retire my faithful Jubilee from service and restore it to its original state as much as possible. The only change I had made over the years was to convert it to 12-volts.
This was my first restoration, so I had no idea what I was getting myself into. I had not read any restoration books or watched any videos. That was probably a good thing or it might still be in its work clothes today. I started by spraying down the whole thing with degreaser and then power washed the tractor.
Being my first restoration and on a budget, I did all the work myself, including the painting with brush and shaker cans. My biggest surprise was how inadequate the power washing was. It seems there is no way to get all of that baked on oily dirt off, especially around bolt/nut heads and on the bottom side of the tractor. Consequently, there was a lot of meticulous scraping with a small flat tip screwdriver, followed by brass bristle toothbrushes and wire brush on a Dremel tool. Larger areas and parts were brushed with a bigger wire brush and powered wire brush wheel. Needless to say, I would starve to death if I did restorations for a living. I have great respect for those in the profession
Another problem was removing the wheel hub in order to replace the outer oil seal that was leaking. I was told that all you had to do was get a good pry on it and give it a lick with a hammer and it would pop loose. That didn't happen. The hub had probably been in place since 1953. I acquired a large puller from a friend and off it came. I took pictures as the dismantling process began so I could remember how to put things back together. Fortunately, the engine did not require an overhaul, so most of the work was on tune-up parts and leaking gasket replacements.
Though there was no problem with parts like the radiator and water pump, I elected to replace them with new ones, since I had it torn down this far and wanted it to be a good looking restoration. I replaced the brake shoes, tie rod ends, battery box, and anything else to tighten it up, stop leaks, and make it like new again.
I became good friends with a brass bristled tooth brush for cleaning baked-on grease and dirt from around bolt heads and crevices. Parts were removed, hung up all over my barn for spray painting.
I didn't do any professional painting on this restoration. The sheet metal was in such good shape, sanding and taping were all that was needed to do the painting with rattle cans.
People that have seen the paint job could hardly believe it. I found a knowledgeable company in Hico, Texas that knew the correct shades of gray and red. I sprayed what I could and painted by brush the undersides and cast parts.
Thirteen months later, my Jubilee was finished. The crowning piece was mounting a new Golden Jubilee Medallion. I also restored a Dearborn Model 10 two bottom plow.
My dad passed away in 2002. I wish he could have seen our 1990 acquisition now. I show my prized Jubilee at tractor shows in the area and have great fun telling (and listening to) stories about growing up with these great vintage Fords. I am very proud of this tractor and its contribution to farming history. My daughter, Kimberly, now married, has always loved to drive this tractor. It will probably be hers some day.
My next project is a 1952 8N six cylinder Funk conversion. Do you think Henry Ford every envisioned these tractors still being used 65 years later?

Enjoy this article? Subscribe to the N-News Magazine for more essential N-News! Subscribers have made the print version of the N-News Magazine a success for over 30 years. Subscribe today!