Beyond the Model T: The Other Ventures of Henry Ford by Ford R. Bryan. The author was a member of the Ford family, worked at Ford Motors for over 33 years and then after retirement, volunteered at The Henry Ford Museum doing research and digging deep. He wrote a number of books based on his finding in the immense Henry Ford Museum archives.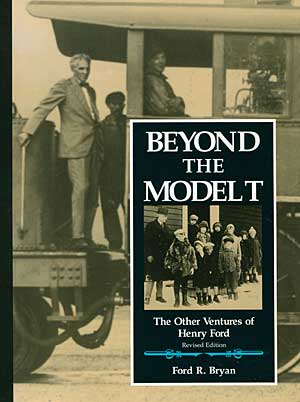 In this 200+ page b&w paperback with over 200 photos, Bryan tells the stories of some of the side interests of Henry Ford. What is particularly appealing is each chapter is a stand-alone story and is easily readable in one sitting.
Broken into twenty-one chapters ranging from the Fordson tractor to railroads, telegraphy to lumber, aircraft and education….all side projects for Henry Ford. If you are interested in the history of early 20th century America and the exploits of Henry Ford, then this will be a must-have. $35 plus s&h.