By Dave Westen. Published in the N-News Winter issue, Jan-Feb-Mar 2019, Volume 34 Number 1
[Editor's note: I am continually amazed by any piece of machinery that is still at work 40, 50, 60 even 70 years after it was new. There is nothing wrong with taking a worn machine, restoring it to showroom condition and bringing it around to shows. I think that is important too. But what is equally astounding is seeing a vintage Ford tractor still mowing a field, moving firewood or preparing soil for planting.]
We purchased this five-acre property in 2000 from my wife's parent's estate. In 2002 a man about five miles away had the 8N sitting along the road for sale and we made a deal. My brother had bought his NAA from a neighbor and I had the 1948 8N at the time. I traded the 8N to him for the NAA — I've had it since 2004 — and find the NAA is a much more versatile tractor. Mainly because of the live hydraulics for the 3-point hitch. (Also, it has more power.)
I purchased a rotary mower from a dealer in Sturgeon Bay, WI to be able to knock down the weeds. We added a couple of pieces of land since then and now have 25 acres. I have cleared a lot of it and am working to clear more. I mow it over once a year to keep the brush and trees from growing up again. The NAA has been the workhorse for mowing. My daughters love to use it when they visit.
I made the splitter myself. I'm retired from a company that manufactures and installs truck equipment. I fabricated the necessary steel parts and welded it up at home. The pump, valve, tank and filter came from suppliers we use. The original cylinder was a left over, but ended up being too small in diameter and didn't have enough power. I bought a larger cylinder and was able to install it with minor modifications. Otherwise everything worked as planned. I try to put any implement like this on wheels so that I can move it around easily in the shed which has a concrete floor.
You can see the pump is under the frame of the splitter. The suction and pressure lines are coming out of it. There is a regular driveshaft like any used on PTO driven implements.
The NAA has been a great tractor. It is still 6-volt and starts easily in all weather!
I've always been interested in Ford tractors. There was a Ford dealer in Sturgeon Bay for years, so there are a number of old Fords around. My Dad had a 9N for quite a while. When I was a kid we lived in Chicago and had a hobby farm in Kewaunee County, WI. He would bring parts of tractors home to work on. I can remember bringing the engine from the 9N home in the back of the station wagon. It was a job to get it into the basement to work on. When I saw the 8N along the road it seemed like the way to go. The JD BR is one that my Dad restored, too. When my folks retired they moved to the farm permanently. When they died my brother moved there. When my brother sold the farm and moved to Florida, a number of the tractors came up here to live with us.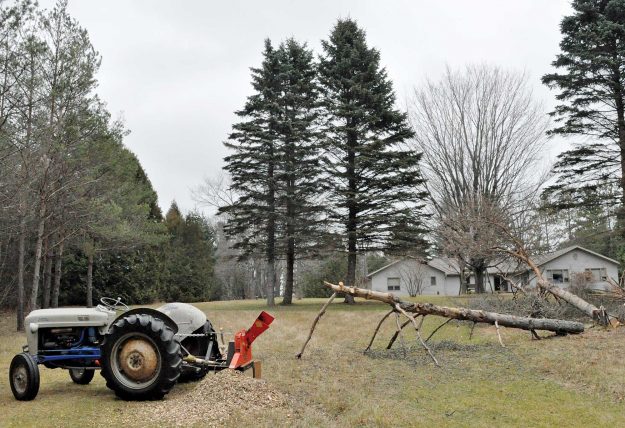 Enjoy this article? Subscribe to the N-News Magazine for more essential N-News! Subscribers have made the print version of the N-News Magazine a success. Subscribe today!