"How Could I Help?"
Perhaps the four nicest words you could ever hear. It is that simple.
My youngest daughter is about to become a teenager. She has been exhibiting the signs of teenage hood for a while; eye-rolling, exasperation, a general unwillingness to do any of the family chores. You know the story.
But a few weeks ago I saw the positive signs as well, the light on the other side of the tunnel. She saw I was struggling to get the next issue of the magazine done, keep on top of the fast-growing late spring lawn, plant the garden and maintain the garlic plots (and the long list of other distractions) and she said, "How could I help?" Wow. I was blown away.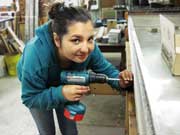 "How could I help?" I say it (without using those exact words) every time I reply to e-mails and postcards looking for parts, directions, input and suggestions. And I am always ready to give help willingly – because I understand the plight of the shade tree mechanic. Because I understand the stress of fixing the tractor in time to do a chore or get it ready to pull the float. And, I guess, because I enjoy helping, sharing, teaching and, at the same time – always learning.
On the flipside, as we get older, asking for help becomes nearly as hard as offering it was as a teenager. I think many of us living rurally have some ingrained genetic code towards self-sufficiency that often stalls us in our effort to reach out. We go down all sorts of other roads before asking for help.
It occurred to me I have published this magazine longer than my uncle before me. Uncle Gerard started the N-News. In 1986, he had gotten a "cutting edge" personal computer (you might recall the IBM PC with dual 5.25 floppy disk drives?) and wasn't sure what to do with it. About 10 years before, he had pulled an 8N out of a junk pile that had been in a barn fire. So, he combined the two interests, put up a few posters at the local Ford dealer, and submitted a few ads in Ag papers. The N-News was born. Gerard published the N-News from 1986-1998. Though I started working on it in the 1980s, I purchased it in 1998.
So, now I am going to ask for some help. Not the help you already give in the form of photos, articles, questions, tips and input. (Need that too.) This is help continuing to grow the N-News Magazine.
If you know someone who you think would like to subscribe to the N-News, send me their mailing address. I would like to send them some info about the magazine. If you want to give a gift subscription, we will add an issue onto your subscription as a thank you. (And, if someone new mentions you while they are subscribing, you get an extra issue added on to your subscription!)
And, in return, I will continue to organize stories, layout issues, find books and films and generally manage what has become much more than a job for the past 16+ years, and is perhaps the truest way I could help keep these old Fords going strong for years to come.
In the meantime, I will ask my daughter to mow the lawn.