By Ralph Brown. Published in the N-News Autumn issue, October-November-December 2017 Volume 32 Number 4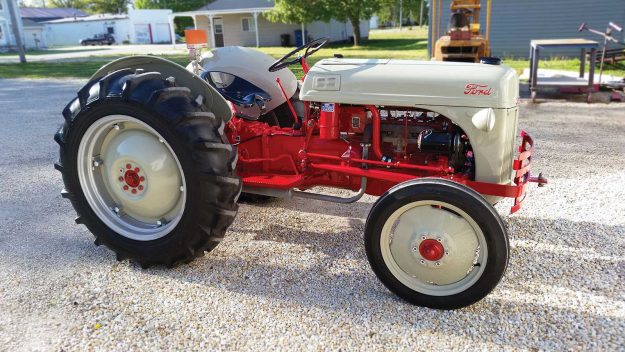 My interest in the Ford 8N began many years ago in the days before I had a driver's license. At age 15, my best buddy's grandparents lived in rural Warren County, Illinois. While they did not farm, they had a fairly large property that they maintained with a Ford 8N. It was here that I first learned what an 8N was. I will never forget the classy art deco styling of the N series tractor.
I richly enjoyed helping with the mowing chores. They had two other antique tractors. The other two were narrow front machines. Since I was a novice at operating machines larger than a riding lawn mower, I was relegated to the Ford 8N. I was likely to get into less trouble than one would on a tricycle type tractor.
Fast forward to the new century, I moved to a small community deep in the heart of Illinois farm country. Agriculture is everywhere here and to see someone joyriding on an antique tractor on a summer evening is not out of the ordinary. The local 4th of July parade always includes a train of old iron in many different colors.
Having a love of all things old, an antique tractor fit my style and I began considering taking on the challenge of restoring one. Of course, my memories of the Ford 8N I drove as a teenager were vivid and influenced my decision as to what make and model of tractor to begin with.
While considering a tractor to restore, the Ford 8N was very attractive for many reasons. First, they are easy to find. One can easily find an N series tractor in working condition. Many N tractors are used daily, completing the work they were designed for. There was no need for me to travel across the country to find one. I found mine within 45 miles of home.
Second, the average asking price of an N series tractor is very affordable. I purchased my 1948 8N for $1,900. It was in good working condition and came with an auxiliary transmission. I have not been able to determine the exact manufacturer of the auxiliary transmission, but I speculate it may be a Sherman step-up model. The tractor had brand new rear tires and rims. I felt I paid a fair price for it.
Third, reproduction parts are abundantly available at reasonable prices. I was very surprised that I could buy a wide variety of parts at the area Farm King, Tractor Supply Company, and Farm & Fleet stores. There is a wide variety of online businesses that have N series parts in stock as well.
In July 2016, I toted home my first 8N. Originally, I intended on starting the restoration in my garage. I began using a wire wheel to peel away the old paint. I believed I could restore the tractor using good ole' spray paint. I became familiar with the website Just8Ns and was buying parts as I went along.
Then, a friend of mine, who owns and operates an auto body shop down the street, stopped by for a visit. I asked for his opinion on what to do about the hood in relation to the aftermarket radiator I just received. I was having trouble getting the top of the radiator to line up with the hole on the hood. When he saw what I had going on, he set me in a whole different direction, and for the better! The next week my tractor was in his shop. He wasn't about to let me do an "Earl Scheib paint job."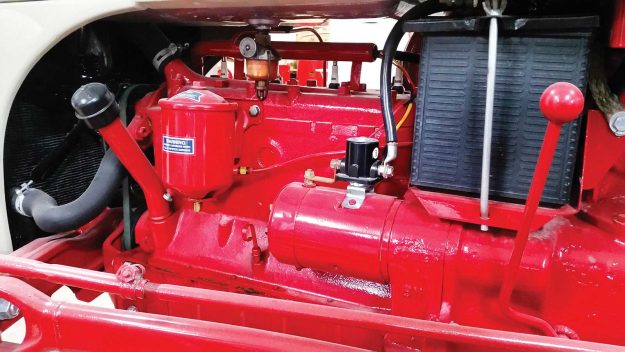 The first order of business was tearing down the tractor. As many parts as possible were removed, the engine was split from the tractor, and I learned how to sandblast. What a difference in time and final product I discovered between sandblasting and using a wire wheel. I'd probably still be cleaning away with that wire wheel if I wasn't set straight.
After removing the engine head, we discovered that there was a hairline fracture over the number one cylinder, just under the water jacket. It was apparent that over time water had leaked into the cylinder, causing pitting on the piston top. A search for a used engine head on ebay was fruitful and a replacement piston was worked in. Surprisingly, the cylinder walls were not pitted and in satisfactory shape.
I used a single stage paint with clear coat mixed in. The red color was Vermillion red, a Chrysler variation. Once the color was applied and cured, the reassembly began. My attention was now directed towards the sheet metal work.
I calculated that purchasing new fender skins would be time and cost effective versus the labor-intensive chore of trying to repair the old ones. As I moved on to the hood, I learned of the common problem of the lower sides of the hood rusting through. I read online of many different tactics of recreating the two ribs that run along the outside bottom edge below the "Ford" script on the hood. None of them appealed to me.
It seems there is a demand for patch panels for these hoods, but I wasn't able to find any in existence. I decided to purchase an aftermarket hood. I cut out the "Ford" script on my old hood and welded it into the aftermarket hood. The sheet metal was painted Ford Medium Gray and the clear coat was applied separately.
Other various alterations I did were returning the front wheels to the 4 x 19 rims and keeping the 6-volt electrical system. The tractor came with Tractor Guide brand headlights. These headlights had an external wire mounting post on the back of the headlight assembly. Someone previous drilled a hole through the hood legs to accommodate this wire. I modified the headlight by removing the mounting post and closed the hole left behind. I was able to use the same headlight bolts as used with the Tract-o-Lite style headlights to mount the lights through the wing style headlight mounting brackets.
I also added a tail light with a license plate bracket. While I'm not sure that Illinois ever required tractors to be registered, I decided to add a 1948 Illinois license plate to help identify the model year.
After about ten months of work, I'm ready for some shows and parades. I already have another 8N lined up for restoration. I anticipate the next will be a better show tractor now that I understand the process. I certainly am happy that I choose the 8N to restore.
I always heard Max Armstrong talk about "classic tractor fever" on television. I now understand what that means. I plan on being a Ford tractor collector for a long time.

Enjoy this article? Subscribe to the N-News Magazine for more essential N-News! Subscribers have made the print version of the N-News Magazine a success for over 30 years. Subscribe today!