Classic Farm Tractors: The History of the Farm Tractor is an exceptionally well done reprint under the Crestline name which specializes in picking up books that have gone out of print.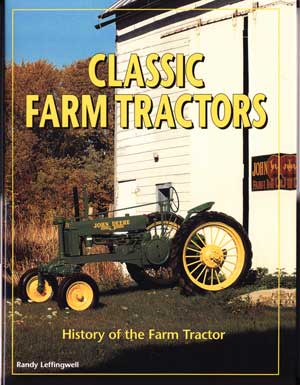 Randy Leffingwell does a great job of giving an overview of the inception of the tractor on the American family farm. Chapters include: Allis-Chalmers, Case, Caterpillar, Deere, Ford, International Harvester, Massey, White, and Orphans. Randy's photography is stellar and the photography makes this book worthwhile all by itself. The additional information is the cream!
With more than 250 color photos, this book also makes a good gift, especially for someone who is interested in getting an overview of the history of farm tractors in the USA. Originally this book was published in 1996 by Motorbooks International but had been unavailable for sometime. At only $11.95 this is an amazing value. Short supply.