Joe Jacobs is obviously a do-it-yourself kinda guy. His solutions to gates, animal feeders, livestock haulers and chicken coops are all what you would expect. What is a little less expected is his very straightforward attitude towards tools and materials. If you have a small hobby farm, dream of living a little closer to the land or just enjoy creating solutions yourself, this book is for you.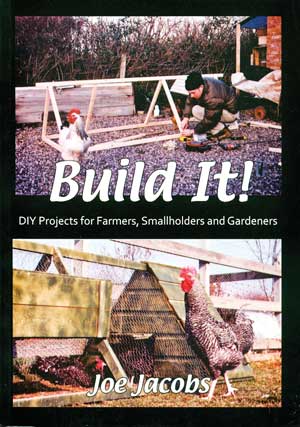 Originally published in England, author Joe Jacobs doesn't feel you need to have a full shop in the garage or barn to get this stuff done. A simple selection of good quality tools will do the job. That was refreshing.
Another surprise was some of the projects, like building your own milking machine or creating your own bee hive. How about building a 10' x 15' plastic hot house or an automatic chicken coop door operated by using a greenhouse watering timer? (The timer trips a pump which runs water into a bottle which gets heavy and closes the door.) Sounds sort of Rube Goldbergish, but I have always been a sucker for odd solutions to common problems. These and other solutions in this unusual book will certainly make you think!
Black and white, softcover, 190 pages, originally sold for $15.95, now as a remainder through the N-News for 9.85.