The machine age (arguably 1875-1950) in the United States and Europe yielded some of the most elegant industrial design. As proof of its popularity, there are catalogs today that specialize in reproductions of these designs. Rizzoli recently published the hardcover Vintage Industrial: Living with Machine Age Design, by by Mischa De Potestad & Patrice Pascal, which does a wonderful job of looking at turn of the century industrial design and putting it in context. $45.00 new.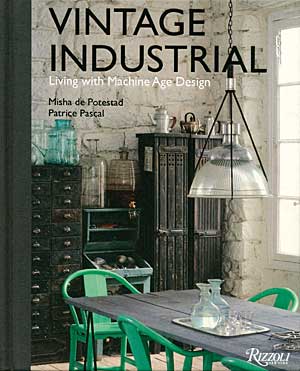 There is something tantalizingly sophisticated and stylish about this type of modernism, which was applied to so many every day items – furniture, tools, fixtures, lighting. and yes, tractors. From something as seemingly simple as the office chair to a drafting table, a task lamp, a storage locker or a nail organizer for a shoemaker, the design steps forward, taking the "form follows function" concept to a new level.
Tractors of the 1930-40s (especially the N series) follow these simple guiding principles of design where elegance and grace, balance with functionality and design. Hardcover, 220 pages in color and filled with excellent photographs, this book might inspire the "collector" in you to see the elegance of industrial design in more than your tractor! New. $45.00.