Another excellent Taunton Press book to help the do-it-yourselfer plan, prep, install and finish not just cabinets, but the whole kitchen including counter tops. A comprehensive, multimedia approach with DVD. $9.95.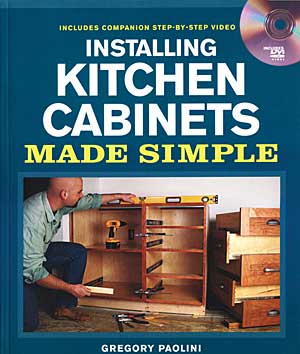 What makes Gregory Paolini's book intriguing is the DVD that comes along with it: an excellent step-by-step guide! From the product description:
Through a comprehensive, multimedia approach he shows exactly how to do it yourself, from choosing the right cabinetry and countertop materials to preparing the site for easy installation. There's valuable direction for installing both wall and base cabinets so they're level and square, as well as perfecting side panels and trim around the cabinets. The author's foolproof methods apply to both stock and custom cabinets, giving readers plenty of options–both high-end and economical–for updating their kitchens. Step-by-step text, photos, sidebars, and "WorkSmart" tips will go a long way in getting the new look just right.
For those who like to see it done (instead of reading about it) this DVD makes it worth while. This 100 page softcover originally sold for $24.95 now only $9.95.