OK, I will admit to looking forward to summer. After months of longingly looking out the window at the snow covered grill, I am ready to start cooking outside again. Fire It Up by Andrew Schloss & David Joachim does not disappoint! $11.75.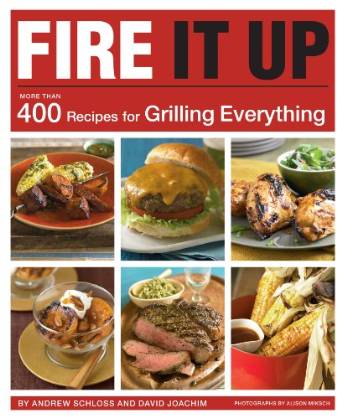 The book starts with a section on dry rubs to prepare foods for cooking and then moves into different types of brines, marinades and glazes – all to bring out the flavors that the food and the grill are capable of producing. The photography here (by Alison Mikschis) is just amazing and the recipes are excellent. But there is more in these 400+ pages then photos and grilling directions.
There are also chapters on Beef (including the basics of different cuts), Veal (again with a parts breakdown) Pork, Lamb, Goat, Bison and other Game Meat, Chicken & Turkey, Duck, Goose & Game Birds, Fish, Crustaceans & Mollusks, Vegetables, Fruit (crazy, right?) and even, Cheese, other Dairy Foods & Eggs, Breads, Sandwiches, Cakes & Cookies. The bottom line; something for everyone but if you eat meat, a lot of somethings! Fire It Up: 400 Recipes for Grilling Everything is a Chronicle publication from 2011. With over 400 recipes retails for $25 it is now a remainder at only $11.75.