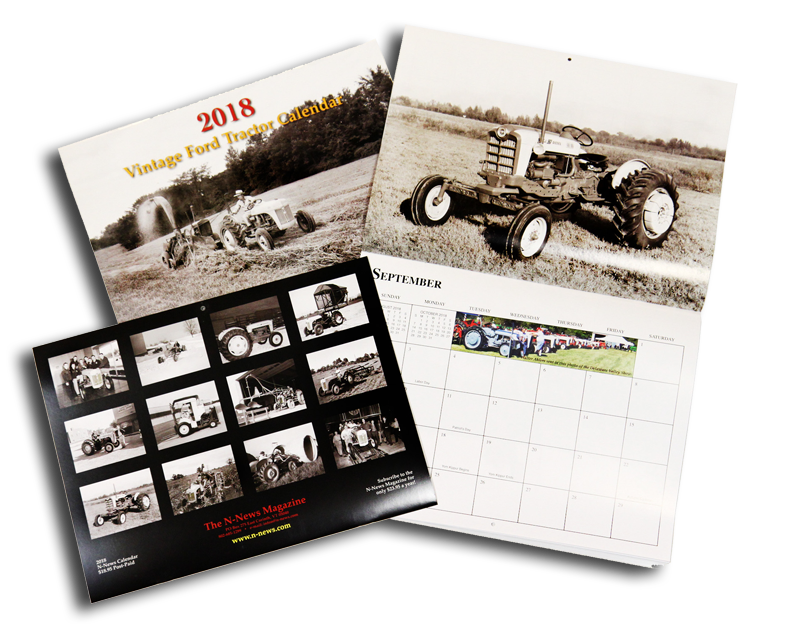 For 2018 we are pleased to offer our seventh N-News Vintage Ford Tractor calendar! Featuring a vintage duotone image every month of a Ford tractor from the 1950s & 1960s at work and on display, the calendar measures 12"x18" when open. Below the fold are small color images sent in by readers like you. The calendar is glossy throughout.
ORDER your calendar for just $7.95 while supplies last. BETTER YET, order TWO calendars for just $14.00! One for the house and one for the shop.
Once again here are the prices for the 2018 calendar:
(1) 2018 calendar postage-paid – $7.95
(2) 2018 calendars postage-paid – $14.00
We're closing out the stock so pick up your calendar while supplies last!
Prices include shipping and handling. Order via Paypal or simply drop a check in the mail. Have a question about our calendar? Ask us at infon@n-news.com.
More from the N-Store!
If you like our calendar, check out what else we have for sale in our N-Store. We've handpicked choice books and DVDs and manuals for you, and we offer most of them at remainders prices.
I Invented the Modern Age: The Rise of Henry Ford $17.00
Vintage Industrial: Living with Machine Age Design $45.00
A Guide To Ford, Fordson & New Holland Tractors $16.00
In The Blood DVD $19.95
How To Restore Ford Tractors: The Ultimate Guide $29.95
Harold Brock DVD $26.95
Common Implements Used With Ford Tractors $35.00
Rouge: Pictured in its Prime 1917-1940 $35.00
Installing Kitchen Cabinets Made Simple $9.95
Building a Shed: Expert Advice from Start to Finish $9.95
Fire It Up: 400 Recipes for Grilling Everything $11.75