The River Rouge plant in Dearborn, Michigan was the largest and most well-integrated machinery and manufacturing complex in the world. Taking up 1300 acres of land, 20 plus miles of roadway, and employing upwards of 100,000 people, The Rouge wasn't just a factory, it was a city. Within this 285 page hardcover, longtime author and researcher Ford R. Bryan collects nearly 400 black and white photos of Rouge: Pictured in its Prime 1917-1940 from the Henry Ford Archives. $35.00.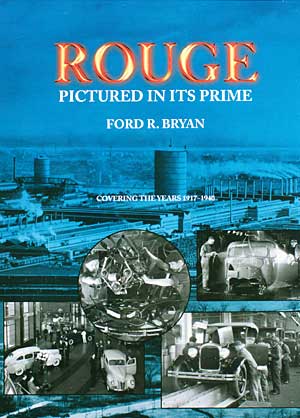 The concept was simple enough: Why buy parts from suppliers when you could make the parts yourself and keep that profit? That means you need to manufacture nearly everything that went into a car, truck or tractor. Hence the birth of the River Rouge complex where raw material came in and finished products rolled out.
This is an unbelievable compendium of images covering many aspects of the Rouge complex. From the early construction to the powerhouse, blast furnace's, foundry, coke ovens, carpentry shop, paper mill, to the cement plant, rolling mills, testing facilities, hospital, commissary and of course many more departments in between – this book gives a birds-eye view of the first major manufacturing complex in the world. New from the N-News at $35.
Common Implements Used with Ford Tractors From 1939
After dreaming of a book that would encompass many of the most common Ford implements, one has finally arrived. This compendium of over 50 attachments covers many common tools available for the earlier Ford tractors. With over 750 pages, it will not be easy to travel with, yet as a resource to expand your understanding of the diversity of implements that were available for these tractors, this tome has no equal. Here is a list of all the Assembly and Operating instructions in this book:
Moldboard Plow
Economy Plow
Middlebuster Plow
Lift Type 2-Way Plow
Lift type Disc Plow
Tandem Disc harrow series B & E
Bush & Bog Harrow 11-34, -36
Spring Tooth Harrow 11-10, -11
Spring Tooth Harrow 11-25, -26,-28,-29
Towner Offset Disc Harrow 11-16,17,18, 11-37, -38
Lift Type Kelly Planter 12-9,10,11,12
Lift Type Kelly Planter 12-31,32,33,34
Lift Type Lister Planter 12-24,12-25
Grain Drill 12-39,40
Fertilizer Grain Drill 12-42
Lift Type Rotary Hoe 13-10
Lift Type Four Row Weeder
Lift Type Rigid Shank Front End
Cultivator
Lift Type Rigid Shank Cultivator 13-1
Lift Type Rigid Shank Cultivator
Lift Type Spring Shank Cultivator 13-2,2A
Lift Type Spring Shank Cultivator
Lift Type Rigid and Spring Shank Front
End Cultivator Attachments
Lift Type Field Cultivator
Rear Attached Mowers
Side Mounted Mowers 14-3,4
Rotary Cutter 22-47
Rotary Cutter 22-60
84" Rotary Cutter 22-47
Sweep Rake
Lift Type Sweep Rake 14-21
Standard Wagon 21-2
Lift Type Cordwood Saw
Lift Type Cordwood Saw 22-44
Danuser Post Hole Digger
Lift Type Danuser Post Hole Digger 22-11
Lift Type Rear Scoop
Lift Type Rear Utility Blade 19-5
Lift Type All Purpose Blade 19-16
"V" Plow
Blade snow Plow
Angle Dozer
Lift Type Rear Utility Blade
Roto Flail L-16-21
Heavy Duty Manure Loader 19-8,8A
Dearborn Loaders 19-21,22,23
Ford Loaders 19-60, 19-81
Ford Step-Up and Step Down Reversing Transmissions
Swinging Drawbar for 8N
Dearborn Manure Spreader 20-7, 20-7A
Dearborn HD Side Delivery Rake14-42
Dearborn Side Delivery Rake 14-20
Dearborn Hay Baler 14-49
Dearborn Forage harvester 14-43,44
Dearborn-Woods corn Picker 16-4
Beyond the practical aspects of this compilation, there is an historical perspective that makes this book a must-have for the Ford tractor aficionado. It is hard to believe there were so many implements available for these tractors. And when you realize that this is only a small example, it is even more astounding. (We have over 500 implements in the Master Archive List here at the N-News!) It is perhaps this exact reason that these tractors have become so popular and useful, even today! This book is available from the N-News magazine for $35.