As I was reading I Invented the Modern Age: The Rise of Henry Ford 1917-1940, by Richard Snow, to prepare a review, my wife asked, "How many books about Henry Ford have you read?" "Well," I answered, "more than most people, I guess." Of all I have read, this 300 page hard cover has to be one of my favorites. $17.00.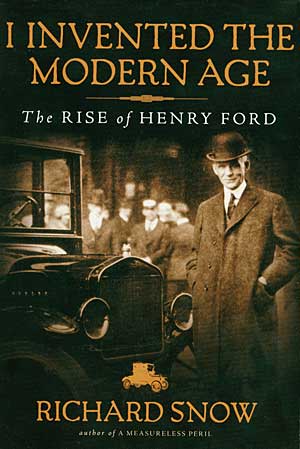 Immensely readable, Snow does a wonderful job of telling the story of how Henry Ford became a titan of the early 20th century and how his vision changed the course of America and in fact, the world. Here we view Henry Ford from his upbringing, early years of invention and focus, to creating the world's largest factory, employing hundreds of thousands of people and paying them enough to purchase the product they were creating. And, in doing that, Ford continued to try and control those employees as well, through the Sociological Department and through his "lieutenants" who often carried a big stick.
But it is the early part of Ford's life that is painted here with the kindest (and most detailed) brush. Here we learn of Ford's short-lived racing career, his fight against the Selden patent for the gasoline engine and his difficult (though critical) relationship with James Couzens in the earlier days of the Ford empire. With characters fleshed out, the early years are especially enjoyable reading.
New, this book sells for $30 but we were able to find a small stash of liquidation copies which sell for only $17 while supplies last.